Private Events
Private cheese and wine tastings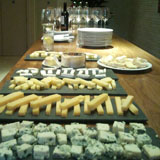 Would you like to hold your own tasting at Cheese or your own venue? That can easily be arranged. We create events for you and your party based on what you'd like to explore –  perhaps you'd like to know more about New World wines, or learn quirky grape varieties?
We suggest a welcome drink of fizz, followed by a beautifully crafted cheese and wine matching (we normally do six pairings). Add canapés and charcuterie platters and you have the makings of a very special evening –  Menus for Private Tastings– welcome drinks and canapés to enjoy before a tasting.
Our prices start at £35 per head.  We normally book a minimum of ten people, and we can accommodate up to 25 indoors, and up to 60 on our terrace. A minimum spend does apply.
Do get in touch on events@cheeseatleadenhall.co.uk for more information – we welcome all enquiries.
Menus for Private Tastings
When you book a tasting we recommend you start with a welcome drink. You may also wish to order canapés. Please take a look at our suggestions below.
Welcome Drinks
House red or white £12
Prosecco £12.50
Champagne £15.50
Costs based on between 1/3 to 1/2 bottle per person
Canapés



£6 per head, three pieces per head. Choose from the following options:
(allergens – milk, gluten) (V)
(allergens – fish, milk, gluten)
Mozzarella and tomato arancini
(allergens – milk, gluten, egg) (V)
(allergens – milk, gluten, egg) (V)
(allergens – gluten)
(allergens – egg, milk) (V)
(allergens – egg, gluten)
(allergens – gluten, egg)
(allergens – none)
Chipolatas with honey and mustard
(allergens – mustard)
Onion, tomato and goat's cheese tart
(allergens – gluten, milk) (V)
Minimum of ten people per party, either in Cheese or at your venue
For more information, or to book, please call 020 7929 1697 or email: sue.cloke@cheeseatleadenhall.co.uk
50% deposit to be paid a week in advance – thank you