April – Onion & Roquefort Gratin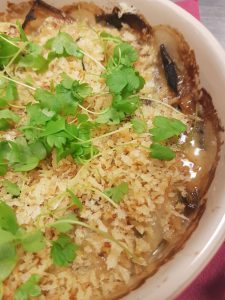 Believe it or not Spring is here (in disguise) and with it begins the onion season.
Here at Cheese we are lucky enough to be able to source a wide variety of onions with which to make this dish but it's just as good with the variety of onions you can get in the supermarket.
Please don't be put off by the winter aspect to this dish. Chef's tip would be to leave it cool for 20 minutes before tucking in to it with crusty bread and a crisp glass of wine or cider.
2kg of onions, red, white, leek, shallot, spring (They all have a unique aspect to them)
1 ltr double cream
3 sprigs of thyme
1 sprig of rosemary
1 bulb of garlic split in half horizontally
1 bay leaf
10 black peppercorns
100g breadcrumbs
200g Roquefort cheese
Slice up the onions anyway you please and cook in a thick bottom casserole with a knob of butter until soft and it's simmering in it's own juice.  Season with salt and pepper.
Meanwhile place the cream and the aromats together in a pan and bring to the boil and turn down to a very low heat for 20 minutes. Set aside to infuse.
In a deep baking dish poor in the onions and cream. Top with the Roquefort and then the crumbs.
Bake in the oven at 210C for 20 minutes or until bubbling and golden.
For winter eat with roast pork or beef.
For warmer temperatures see above!!