June – Risotto Cacio e Pepe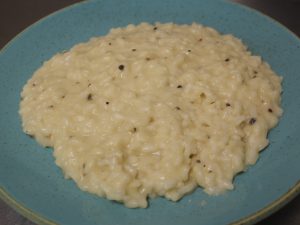 Thank you Chef, for your much anticipated Risotto Cacio e Pepe recipe – warming, creamy, delicious!
(serves 6)
Ingredients
1kg Parmigiano Reggiano (coarsely grated)
1.5ltrs water
2tbsp butter
3 shallots (peeled & chopped)
2 garlic cloves (peeled & crushed)
240g Arborio rice
Cracked black pepper to flavour
To make broth:-
Combine Parmesan with water in a pan and bring to the boil.  When the cheese becomes stringy, remove pan from the heat and cool to room temperature.  Repeat; bring water and cheese to the boil, remove from heat and cool to room temperature.  Refrigerate over-night.
Next day the broth should have seperated.  Carefully remove top layer of cream and save for later.  Strain the rest of the broth and discard any remaining solids.
To make risotto:-
Warm the broth in pan.  In another pan, melt butter, add shallots and garlic and cook until soft.  Add in the dry rice and cook for two minutes.  Start to add the warmed broth; a bit at a time.  Continue to cook until rice is tender; for about 20 minutes.
Stir the Parmesan cream, saved previously, into the rice.  Add in lots of cracked pepper to flavour and serve.