July – Welsh Rarebit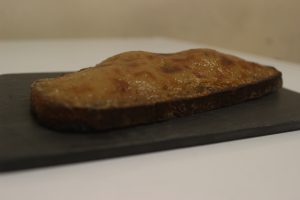 Chef's Welsh Rarebit recipe for this comforting Cheese on Toast.
(Serves 5)
50g plain flour
50g butter
5 slices Sourdough bread
250ml Strong beer, warmed
250g Cheddar cheese, grated (Chef uses Cave Aged)
2tsp English mustard to taste
2tsp Worcestershire sauce to taste
Melt butter in pan slowly.  Gradually add the flour slowly and mix to make a roux.
Continue stiring (or whisking if preferred) for 1-2 minutes and slowly add the warm beer until the roux turns to a smooth, thick sauce.  Add the grated cheese and stir/whisk until melted.
Mix in the mustard and Worcestershire sauce to taste.   Season with salt and pepper.
Toast the Soughdough sliced bread lightly on both sides.  Add the cheesy sauce onto each slice.  Place under a hot grill for a few minutes until golden brown and bubbling.
And there you have it Welsh Rarebit to be enjoyed at anytime of the day.