August – Tartiflette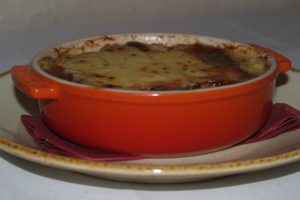 Chef's Tartiflette recipe for this stunning and heart warming Alpine classic.
(Serves 3)
600g potatoes, skin left on
1 tbsp butter
1 onion, finely diced/sliced
100g bacon lardons
75ml dry white wine
100ml double cream
1 Reblochon
The potatoes should be cooked to a point where a fork can get through the skin, but there is still some resistance in the middle.
While this is happening, you can melt half of the butter in a pan, followed by the onions and lardons to saute until a nice golden brown. Pour in the wine until the wine begins to simmer, then add the cream, creating a thick and flavoursome sauce that you should leave on a low heat, stirring occasionally.
Preheat the oven to 200C/400F/gas mark six. Cube the potatoes (you can have the potatoes as discs if you prefer), and then heat the rest of the butter in a frying pan and toss the potatoes in the pan until a nice golden brown colour appears. Slice the reblochon whilst this is happening. We like to think that the more cheese the better so be generous with the slices.
Dish half of the potatoes into an ovenproof dish, and then add half of the lardons and onion into the dish, and stir well, adding seasoning as you go. Layer a small amount of reblochon over the dish at this point, and then repeat the process, with the final piece of the jigsaw being the reblochon covering the top of the dish.
Bake for approximately 15 minutes until the mixture is bubbling and a lovely golden colour. You can put the reblochon under the grill for an extra crispy top.
And there you have it. a tartiflette works brilliantly with a nice side salad and a lovely green salad, however, we won't judge if you mix it up a bit with a glass of red! Enjoy!