In several places in the UK Christmas is a time where cheese and fruit cake is eaten together, in Lancashire the Eccles cake is eaten all year round with a wedge of Lancashire cheese.
Be sure to give it a try, it's unusual but extremely tasty. Chef Ollie has kindly agreed to share his large mince pie recipe, which when baked you can cut into wedges and serve with a wedge of cheese. Perfect for Christmas.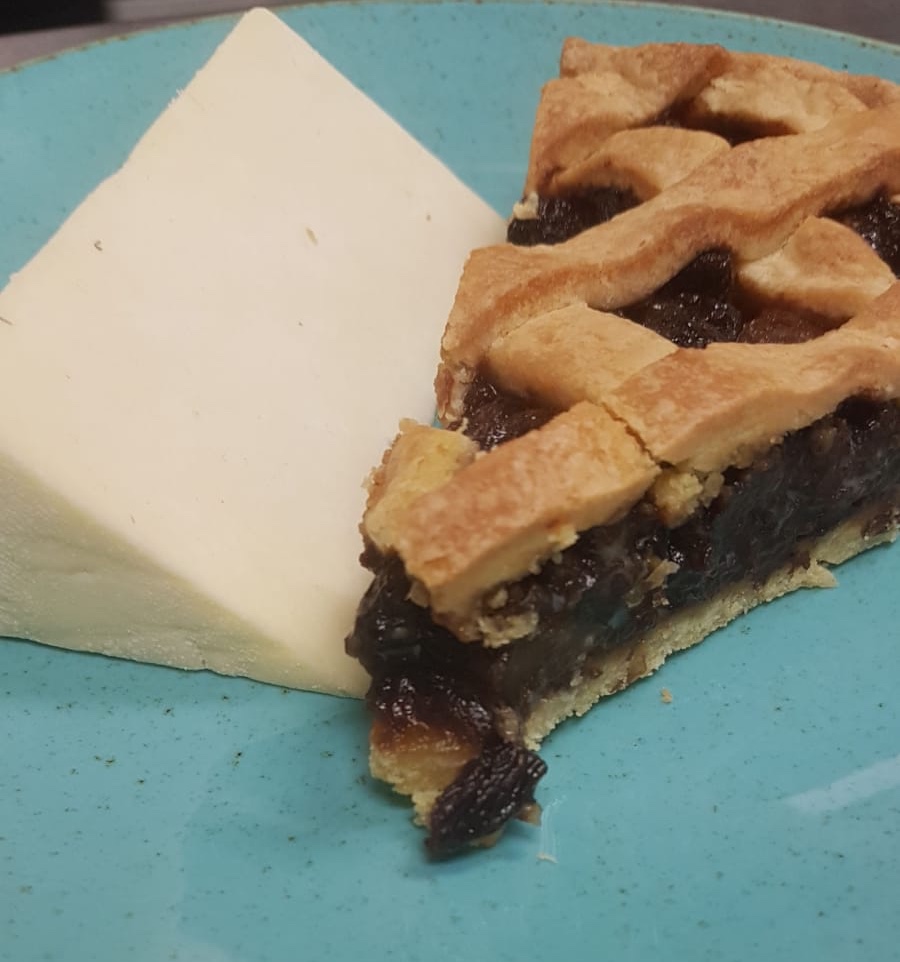 For the tart:-
250g unsalted butter
500g plain flour
100g icing sugar
1 egg yolk
50ml water (room temperature)
1 whole egg
Zest of 1 orange
For the filling:-
500g mincemeat
200g Cheshire cheese, crumbled
Place the flour, butter and sugar in a food processor and pulse until it becomes a sandy texture. Add the zest and eggs and 50ml of water and pulse until it just comes together as a dough, it's important not to over work it.
Alternatively:- crumble the butter, flour and sugar between your fingers until the same sandy texture is reached and then add the other ingredients and mix gently by hand.
Divide the dough into 2 pieces, ​2⁄3 by ​1⁄3. Squash them flat by hand between cling film and leave to rest in the fridge for 2 hours.
Remove the dough after 2 hours.
Butter a 28cm fluted tart case, then roll out the larger piece of pastry to a 2mm thickness. Lay this in the case, ensuring the pastry is pushed into all the corners and that there is an over hang around the edge.
Spoon the mincemeat to fill the tart case to a good level. If you like a really good amount of mincemeat you can use more than that and fill the case to the brim, it's personal preference.
Then crumble over Cheshire cheese. Roll out the remaining pastry and make a centre slot – cover the tart. Crimp the pastry together and trim off the excess.
Bake in the oven at 170 degrees C / Gas mark 3, for 40 minutes or until the tart is golden brown.
Allow to cool to room temperature before serving.