Perfect to impress your guests or just to indulge on an Autumnal evening. Thanks Chef, we love your Twice Baked Goats' Cheese Souffle.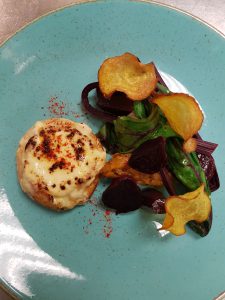 (serves 8)
Ingredients:-
100g unsalted butter
100g plain flour
600ml full fat milk
1tbsp Dijon mustard
1tbsp chopped fresh thyme leaves
5 large eggs
225g soft Golden Cross goats' cheese (175g for the souffle & 50g for the glaze)
100ml double cream
50g grated Parmigiano Reggiano cheese
To make the souffle:-
Melt the butter, mix in the flour and cook on medium heat for 3 minutes. This will take away the taste of flour in the base of the souffle. Meanwhile heat up the milk with the thyme. Strain the milk and add into the butter and flour, whisking continuously until a smooth bechamel is formed.
Remove from the heat and add the goats cheese (crumbled) and mustard and beat together until smooth.
Separate the 5 eggs and add just 4 yolks to the cheese bechamel. Mix and leave aside to cool to room temperature.
Butter 8 large ramekins and dust with flour, shake off the excess.
Whisk the 5 egg whites to stiff peaks. Gently fold the bechamel into the stiff egg whites. Be gentle and you won't lose too much air. Divide between the ramekins and bake at 180 degrees for 15 minutes or until risen and golden brown.
Remove the souffles from the oven and let cool. They will deflate slightly, don't be upset this is totally ok for this recipe. Meanwhile make the glaze.
.
.
To make the glaze:-
Heat the cream to just below boiling and add the parmesan and goats cheese. Whisk to combine and beat in the remaining 1 egg yolk. Leave to cool.
To serve: turn out the souffles and pour a liberal amount of glaze over each one. Grill on high heat until bubbling and brown.
Serve with a beetroot salad and warm crusty bread & a bottle of dry white wine – we suggest: Morande Estate Reserve, Casablanca Valley, Chile; with it's lovely sweetness and fruitiness.