Anyone fancy fondue? – we do so, if you can't get to Cheese – Chef's kindly sharing his secret recipe for his incredibly popular Swiss Cheese Fondue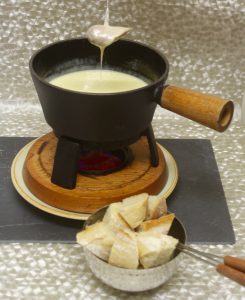 (Serves 2)

100g Schlossberger cheese grated
100g Gruyere cheese grated
100g Emmental cheese grated
1 tbsp plain flour
100ml white wine
cubed bread pieces, for dipping

Mix the grated cheese and flour in a bowl.

Pour the white wine into a pan and heat until boiling.

Reduce heat and gradually add in the grated cheese and flour mix, whilst continually whisking.

Cook gently, until mixture is smooth; adjust consistancy with a little more white wine if needed.  Do not let it boil.

Use fondue prongs to dip cubed bread pieces into the cheese and serve.