These lovely little ricotta dumplings with their creamy interior are a perfect match for salty parmesan and spicy, lemony chorizo. Enjoy with a glass of cold white wine.  Be warned, they take a bit of time but are very much worth the effort. Alternatively you could serve with pesto or a tomato based sauce or anything else that might take your fancy.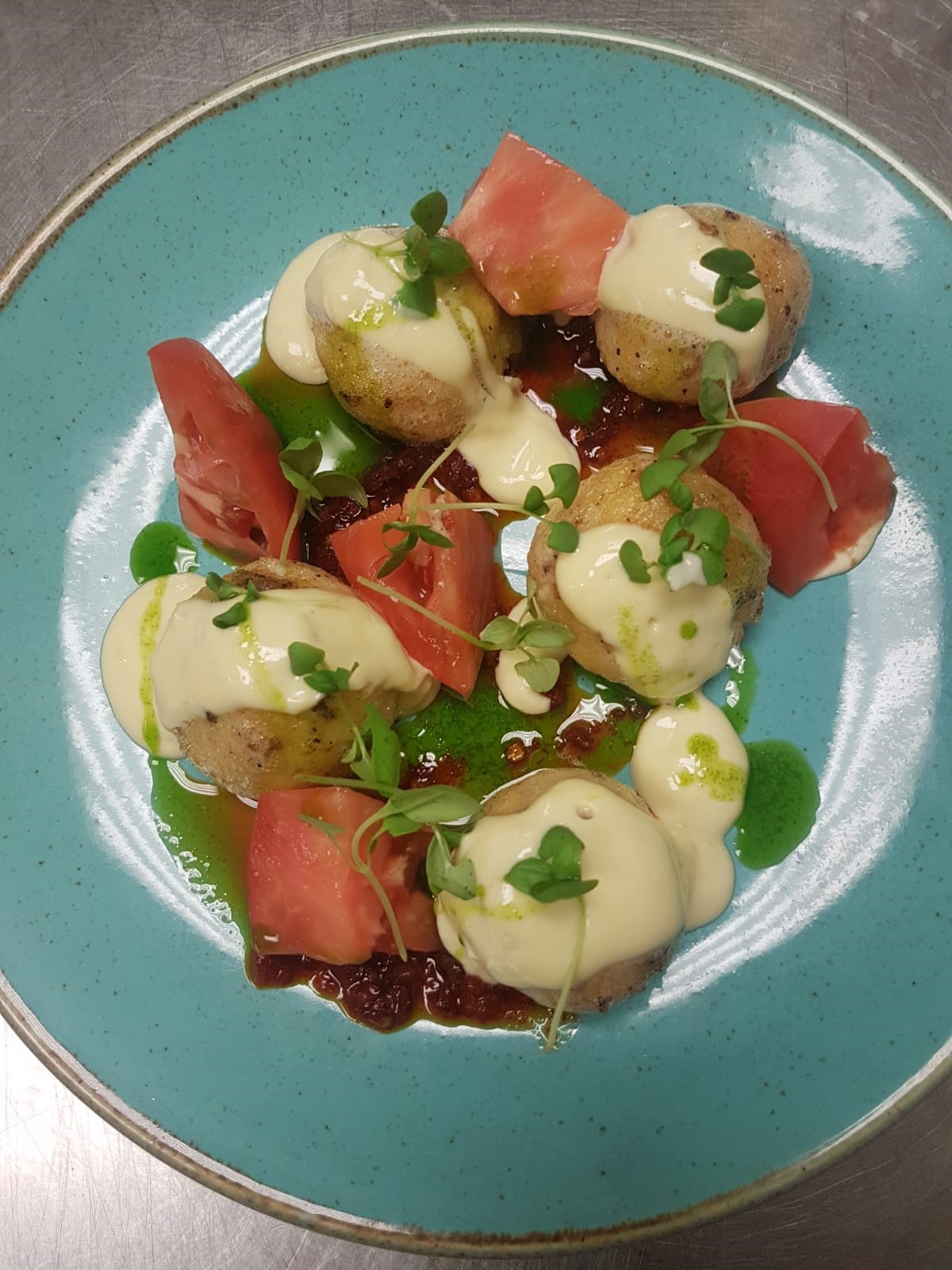 (Serves 2 generously)
For the Gnudi:-
250g fresh ricotta
50g parmesan
250g fine semolina
Nutmeg to taste
Lemon Zest to taste
3tbsp Chopped Chives
For the parmesan Cream
300ml cream
75g parmesan grated
For the Chorizo:-
150g Chorizo, peeled and diced
Juice of 2 lemons
2 tbsp chopped parsley
2 tbspn chopped basil
The day before you plan to eat your Gnudi, tip the ricotta, parmesan, grated fresh nutmeg, lemon zest and chives into a bowl. Mix well and leave aside to relax for 10 minutes. If your Ricotta looks wet place into a sieve lined with a tea towel and leave to drain for an hour before going through with this procedure.
Fill a deep tray with the semolina.
Roll the ricotta mixture into balls roughly 1.5cm in diameter and place into the semolina. Once all the mix has been portioned gently cover the balls with the semolina in the tray ensuring a heavy covering, excess is totally acceptable and use more semolina if you feel there is not enough.
Cover and refrigerate over night.
The Next Day bring the cream for the parmesan sauce to the boil and stir in the parmesan, leave for 10 minutes, stir again and then strain through a fine sieve, season with black pepper only.
Bring a large pan of salted water to the boil.
Meanwhile cook the chorizo on a low heat to extract the oils. When lightly coloured and a lot of oil has been released add the llemon juice and chopped herbs, turn the heat to high and let the mixture boil for 2 minutes, this should emulsify into a sauce.
Shake the gnudi in the tray to remove excess and reshape gently if needed, they should have a very thin coating of semolina around them that has stuck. Drop the gnudi into the boiling water and cook for 2 and a half minutes, no more or you'll end up with murky water. Lift out with a slotted spoon onto your plate and spoon over the chorizo sauce and parmesan cream. Garnish with fresh herbs and Enjoy!!!!