Corporate Events
Corporate Cheese and Wine Tasting Events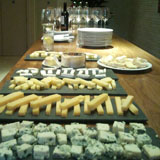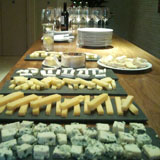 Would you like to hold your own tasting at Cheese at Leadenhall or perhaps, your own venue? That can easily be arranged.
Cheese would be delighted to create an event, especially tailored for you and your guests based on what you'd like to explore; perhaps you'd like to know more about New World wines, or learn quirky grape varieties?
We'd suggest to kick off the event with a welcome drink of fizz, followed by six carefully crafted pairings of Cheese and Wine matchings.
Just add a few canapés and charcuterie platters and you'll have the makings of a very special evening.  
Our prices start at £40 per head.
Minimum Party of 10 guests / Maximim Party of 25 indoors or up to 60 guest out on our terrace.
A minimum spend does apply and Cheese asks for a 50% deposit to be paid at the time of booking.
For more information, or to book, please call 020 7929 1697 or email: Contact Cheese or pop into the shop
Suggested Menu Options:-
Welcome Drinks
pre-tasting drinks, choose from our Wine List
Canapés



£7.50 per head, three pieces per head. Choose from:
Padron Peppers
Chorizo picante sausages
Pork and apple sausage rolls
Cheese scones, onion chutney
Blinis, smoked salmon, cream cheese
Tomato, black olive or piquillo pepper and goats cheese bruschetta
Polenta and Parmesan fries, aioli
Baby jacket potato, sour cream and chives
GUESTBOOK
"Cheese at Leadenhall created an amazing cheese and wine tasting for my friend's hen do. Sue and the team put much effort into arranging the event and the hard work really showed; it was informative, organised, and tasty! The cheeses and wines were beautifully matched and everyone was discussing their favourites long into the evening. A fantastic event enjoyed by all!
Thank you again for putting together such a wonderful event!"
– Lucy Goldbourn (24 August 2017)
"Cheeses of exceptional quality, presented beautifully on slate boards. We regularly hire Cheese to supply cheese and biscuits at our events – clients love it."
– Georgina, Molton Brown, Royal Exchange
"Just to say many thanks for organising such a great event last night – from the first bite of Ossau Iraty to the last sip of Norton Malbec Reserva it was a thoroughly enjoyable evening. Please do pass my compliments to the team who made it happen."
– Eloise Walker, Partner, Pinsent Masons LLP
"Cheese at Leadenhall provided the perfect catering for our gala screening. Our guests and sponsors adored the many quality cheeses on offer and the wonderful service meant that we could savour them too!"
– Tony Jones, Director, Cambridge Film Festival
"The place to enjoy cheese and wine in a relaxed and friendly atmosphere."
– Graham Brown, DAC
"The cheese and wine tasting was one of the most enjoyable and certainly the most popular of our company outings. Expert knowledge and superb products couple with a friendly and relaxed atmosphere made for a wonderful evening."
– Debbie Mallett, CRU