Restaurant
The Restaurant at Cheese   
Pop in Monday-Friday at lunchtime 12nn-3pm for a delicious menu of classic cheese and seasonal inspired dishes. Enjoy table service with helpful and knowledgeable staff.
NB Booking is advisable  Ph: 020 7929 1697 or email: Contact Cheese
NEW……

. Why not treat your friends and/or family to the ideal gift for any occasion, lunch at Cheese at Leadenhall Buy online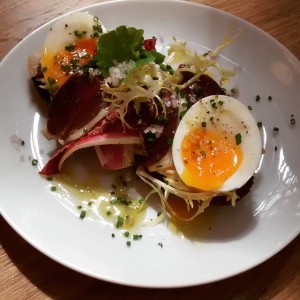 Menu @ 16 April 2018
Nibbles
Gordal olives £4.50
Olive oil and bread  £4.00
Salted almonds £4.00
Black olive twisted straws  £4.00
Padron peppers £5.00
Starters
Scotch egg, Piccalilli £7.50
Sourdough crumpet, rarebit, pickled quince  £7.50
Wild garlic soup, smoked bacon gougere  £7.50
Gorgonzola tortellini, butternut squash, herb pesto  £8.50
Smoked haddock "quiche lorraine"  £9.00
Prosciutto, Pio Tosini 24 months matured £16.00

Duck rillette, cornichons  £7.50
Pork terrine, cornichons £7.50
Plat du Jour
Lamb rump, pomme puree, glazed carrots  £17.00
Smoked ham hock and chicken pie, asparagus, peas  £14.50
Bavette steak, morels, broccoli, pepper sauce  £16.50
 Cheese Classics
Croque Monsieur £10.00
Croque Madame £10.50
Baked Camembert £10.00
Cheese and Charcuterie 
A selection of five cheeses, bread and chutney £15.00
Charcuterie plate, bread and pickles £15.00
Cheese and Charcuterie plate, bread, chutney and pickles £18.00
Demi platter of cheese or charcuterie  £9.00
Dessert

Coffee, chocolate, mascarpone  £6.50
A selection of teas or coffee £2.50
Prices are inclusive of VAT.  A discretionary 12.5% service charge will be added to your bill, please inform us if you would like this to be removed.
Food allergies and intolerances – before ordering, please speak to our staff about your requirements.
Cheese at Leadenhall Wine List 2018
There is NO smoking in Leadenhall Market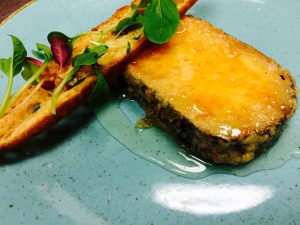 Please note that although some of the pictures you may see on this page will be of current dishes from our kitchen, there are a few that are of past dishes that are not currently available on our menu.